During a recent visit to Anthropologie, Adam and I happened across the most amazing book, Etcetera, by Sibella Court. I had recognized Sibella from an episode of a show called "Man Shops Globe" I watched on the Sundance Channel , when they toured her shop The Society Inc. in Australia.
Originally, this book was going to be my Christmas gift, but there was no chance of me holding out for 39 days, so we turned the car around and drove right back to the store to purchase it…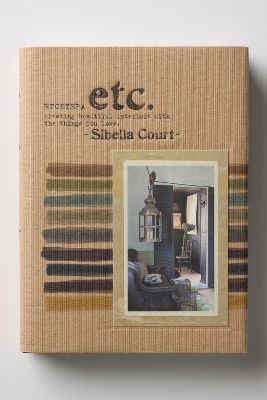 There is something extremely magical, even a bit mysterious about Sibella and the way she does her styling. I could just sink right into her rooms…
I find Sibella's work very refreshing. It's such a different take on decorating. Exposed lamp wire cords, random items taped up on walls, loose fabric yardage on the floor. It reminds me not to take everything so seriously, and relax with it once in a while…
That yarn covered branch on the right, I am completely inspired…
Wallpaper rolls on the walls and wire lampshades under the sofa, I admire Sibella's free spirited nature…
She is indeed a true curator of curiosities and wonderment…
Objects you may not look at twice but so impactful in a grouping, such as her interesting collection of barbed wire…
In addition to interior and magazine styling, Sibella works with Australian paint company Murobond, where she creates a new collection of paint colors every few months. Once her paint color collection is ready for market, she pulls inspiration from her new color palette and recreates her entire shop to tell her color story. 
I hope this has offered a little inspiration into your day. Have a great rest of the week!
P.S. You can purchase this book at Anthropologie, and it's also offered on Amazon.