Happy 1st of September! I'm not sure about you, but we're starting to count down the days till Autumn is officially here. (21 days to be exact, thanks to this helpful calendar). We can't wait to start pulling out all our comfy sweaters and coats. Last night it was actually chilly enough to wear socks and pull the comforter all the way up over the bed. Best night of sleep I can remember : )
Aside from being an inspirational blogger and enthusiastic DIY'er, my friend Layla from TLC (The Lettered Cottage) also writes articles for HGTV.com. She had contacted us a while back about using our bakery wall for an upcoming feature she was writing. Since most of the photos of our house are totally outdated (I decorate and re-decorate this place on a weekly basis, people. Just ask Adam who never knows what he might come home to next). So I whipped out my Canon Rebel and came up with this current shot of our bakery wall:
And to my added excitement, Layla and HGTV.com came up with this:
You can see the article in its entirety HERE! It is a beautiful piece with loads of inspiration. There's even a photo of Layla's Reading Room included in the article, the tiniest sweetest little room I ever did see. Couldn't you just dream the day away in here…
So this got me to thinking…It's about time I pull out my camera again and update the photos of the rest our home, how it currently looks (this week anyway) as you know I like moving things around here on a regular basis : )
For a little fun, and to help get me motivated to start snapping this place with more current pics, here's a before and current after of our bakery wall in our kitchen…
BEFORE:
AFTER:
Since today is the 1st of September, I'm hoping you'll take a moment to visit this month's Cottage of the Month. It's Jojeana's darling farmhouse-style home from Secret Garden Cottage. She's a super friendly blogger and I'm really excited to have the opportunity to share her home with you. Here's a few teaser pics to entice you if you haven't already seen it…
To visit Jo's blog, please click here!
As part of my round-up, I wanted to share a peek at a couple of the past features I've done incase you missed those as well. 
July 2011 Cottage of the Month
In July, I featured the sweetest gal named Yozo, who lives all the way in Tokyo, Japan! I could definitely learn some tight-space-living organizational techniques from her, as she lives in a 70 square meter home…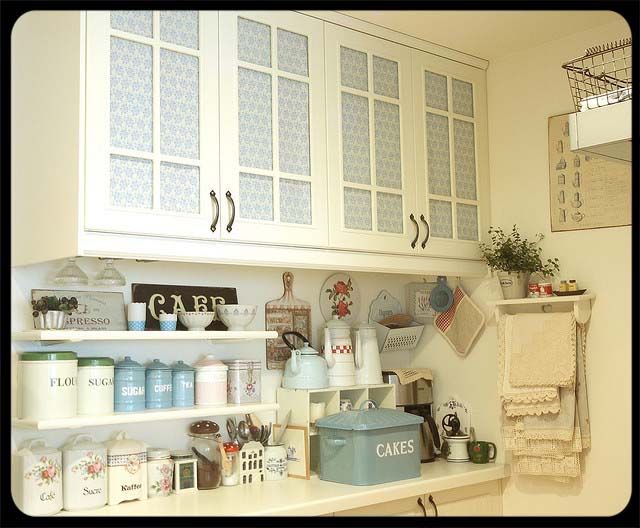 August 2011 Cottage of the Month
For Augusts' feature, I chose Trine's home located in Norway. Her home is delightful and whimsical around every corner you turn. Here's a few sneak peeks from her feature…
And there you have it in one big post-filled nutshell! Well, I think it's about time I step away from my desk and grab that camera of mine. I'm feeling especially motivated to starting taking those current house photos I've been talking about : )