Earlier this year back in February, when my blogging pals were having fun decorating for Valentine's Day and making pink fuzzy hearts, I was frantically decking the halls of Cottage8 for a two-day photo shoot.
Imagine my uber excitement when I received a call from the folks at Better Homes and Gardens magazine, for an opportunity to be featured in their upcoming December Christmas Ideas issue, just a month after Christmas already passed. (Magazines sometimes shoot up to a year in advance). I had just finished packing away the last tree ornament and vacuumed up the final flake of mica snow when I got the call, but I couldn't say yes fast enough.
The folks at BH&G were the nicest people to work with. Courteous and professional, both the photographer and the stylist were very respectful of our home, our two cats, and all of my things, including our 300lb industrial factory cart coffee table. They understood the way I decorate and that my house is a neutral, non traditional, red-n-green-free holiday zone. They totally got me, which isn't always an easy thing to do.
See that 7 1/2 foot tree, below? It came from Wallmart and it's a fake tree! Yep, it comes in about 200 pieces and requires full assembly. You see, in February it's pretty slim pickins' when you're looking for live trees. I was however, able to score some live garland from a wonderful nursery all the way in Indiana. They provided the swags and loose branches for the mantel and centerpiece on the table (above). It had to be flown in overnight, just in time for the shoot!
The stockings were made by my friend Laurie at Bella Inspirations, and she also made the stenciled tree skirt. You can find these and more in her etsy shop. This girl is crazy talented and she's a super great friend. She came to my rescue for this shoot, big time. If you could have seen the two of us the day before the shoot…we were busy styling the house at warp speed while listening to holiday carols!
These two trophy cups actually belong to my friend
Marcy
. She let me borrow them for the shoot. And that pic of me...it was taken just two weeks before I started my diet, over nine months ago. I guess I have an official "before" photo. That sweater literally hangs off of me now.
I love really simple place settings, and I was really pleased with how this photo came out. That's one of Laurie's burlap runners on the table, and my friend Rosemary made the number wreaths for the backs of each of the chairs. The little baby pine in the center of the table was from Home Depot, and I simply placed it inside a birch bark vase I found at Pottery Barn several years ago.
My kitchen "bakery wall" as well as some fun close up shots from the dining room…
This magazine is going to be carried on shelves until December 19th, and you can find copies of it just about anywhere. It's one of my favorite holiday issues I've seen. Just about every single home in there is a show stopper. I especially adored the featured they did on my friend
Layla's
home: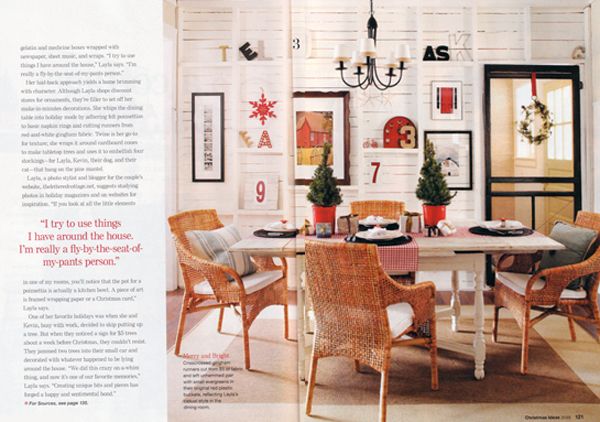 Stay tuned for my next post…we're doing a huge Giveaway featuring Bella Inspirations!
Till next time, click and keep up with us on our favorite sites…