I'm pleased to introduce you to one of our newest sponsors, Brick House Fabrics, an online fabrics store based in mid-coast Maine. They live and work in an old 1840's brick house, hence the name!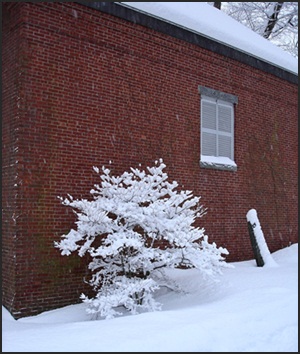 (image to the left: The Brick House in Winter)
Brick House Fabrics fabrics are first quality, new on the bolt, from the manufacturer. They also go on buying trips several times a year where they pick up some unique out-of-print fabrics as well as vintage fabrics.
They carry Braemore Fabric, Covington Fabric, Duralee Fabric, P.Kaufmann Fabric, Ralph Lauren Fabric, Robert Allen Fabric, and others. And look for Kravet Fabrics, Laura Ashley Fabrics, Greeff Fabrics, Schumacher Fabrics and others.


Brick House Fabrics specialty is novelty home decorating fabrics. They are constantly expanding their lines, and adding new items. They also have an interest in lace curtain fabric yardage, both full width and cafe lace, and hope to import more of that directly from the mills.

They also do special order fabrics for people. If there is a fabric you need or want, they will try to accommodate your need!


Ready for the best part?


The kind folks at Brick House Fabrics are generously giving away 3 yards of fabric to one of my lucky readers! One name will be randomly drawn to have their choice of one the following fabrics:



Choice #1: Toile Country French Fabric

A country fabric with the look of French toile. The scenes all seem to have boys in them! A father is getting water at a well, while a little boy peers down it; a woman carries a pot on her head while a boy drives a sheep; an older boy and child are with a donkey, another boy pulls the rope of a swing for a lady, etc. There are also dogs, chickens, the usual languid lady, fishing scene, etc.
This toile is done in black, taupey grey, and grey on a soft buff beige background. The effect from a distance is of black and charcoal on light tan.
This is 56 1/2" wide. The boy pulling the rope for the swing is about 5 1/2" ( 13.97 cm. ), from the top of the hat to the pointed toe. This is a mutli-purpose home decorating fabric that is perfect for cushions, curtains, totes, etc.
Choice #2:
Pink Toile Fabric
This toile fabric has scenes all with women. They are seen with children, in a boat fishing, washing clothes, going to work with rakes, feeding chickens, leading a donkey, talking to a man, etc. There are other scenes as well: children playing, leading goats, etc. The scale is quite small.
This is pink on cream. It has a delicate, pretty look.
This fabric is 58" wide. The woman with the hat, with the child and the donkey is about 2 1/2" (6.35 cm ) tall; the woman carrying the laundry on her head is about 3" ( 7.62 cm. ) tall. This is a multi-purpose home decorating fabric. It is perfect for curtains, cushions, totes, etc.
Choice #3:
Georgian Horse toile fabric
Hold onto your saddles, my equine loving friends!

Overlapping rectangles hold small country scenes: there are saddled and unsaddled horses; in one a man is helping a woman, in habit, to mount. And in another one a woman is riding side-saddle. In some of these scenes there are large country houses; in some, small towns, with what looks like a horse show or sale going on. In between are small vignettes of countryside.
The background is a sponged beige, tan, and camel. The effect is of aged papers, with black for the toile.
This fabric is 57 1/2" wide. The horse with the woman riding is 5" ( 12.70 cm. ) nose to tail. This is a multi-purpose home decorating fabric that is perfect for curtains, cushions, napkins, totes, etc.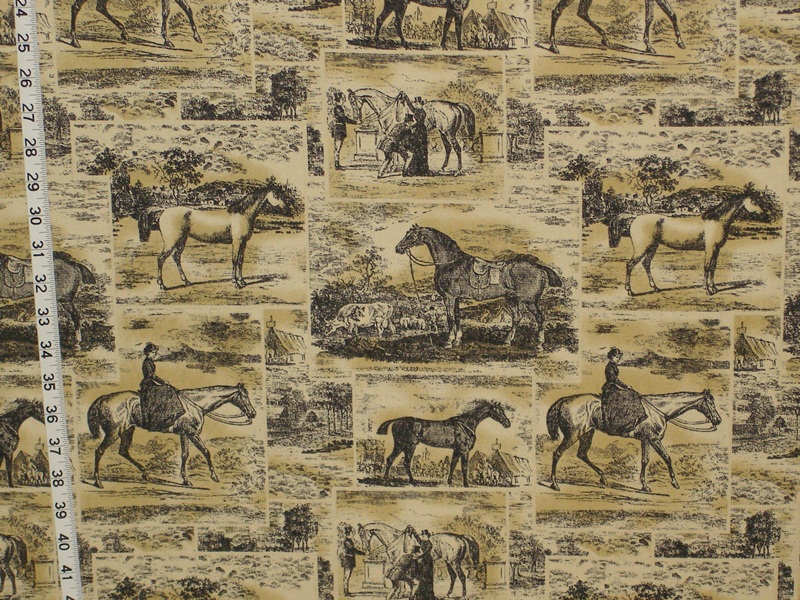 To enter your name in the giveaway, please do each of the following…


1. Leave a comment here on this post
2. Let us know which fabric you prefer (Toile Country, Pink Toile or Georgian Horse)
3. Extra credit question: If you win the giveaway, what project will you most likely use this fabric for?


We're hoping the winner will send us pictures of their finished project using their winning fabric!



This giveaway ends on Monday, February 6th.
Good luck!


Till next time, click and keep up with us on our favorite sites….