Hi, it's me, mid-project girl. Remember the Allure flooring project we recently completed in our office and shared on our blog? I've been looking for some really cool wall art for this room for a super long time, and truthfully, it's been a rather exhaustive search.

Aside from the kitchen, this is one of the hardest working rooms in our house. It's a small 8 x 10 space that serves as a bedroom and dual office work space for two busy individuals. Space is something we don't take for granted, so every piece we bring in is carefully considered.

I finally found my art choice for this room, and I was so excited when it arrived from my friend Kristi over at Barn Owl Primitives a couple weeks back.




While I knew exactly what was wrapped up inside this pretty package, I wasn't prepared for how fabulous it would look in our space.




…You Are My Sunshine…



This is one of the brightest (and smallest) rooms in our house. It fits the sunny disposition and cheerful mood of this space perfectly.




I can't think of a better way to wake up to greet each day!




I'm such a die hard fan of Kristi's work. Each sign is distressed and antiqued and hand painted by her. Just check out those gorgeous brush strokes…




We had the choice of Golden Yellow or Straw, and we went with Straw…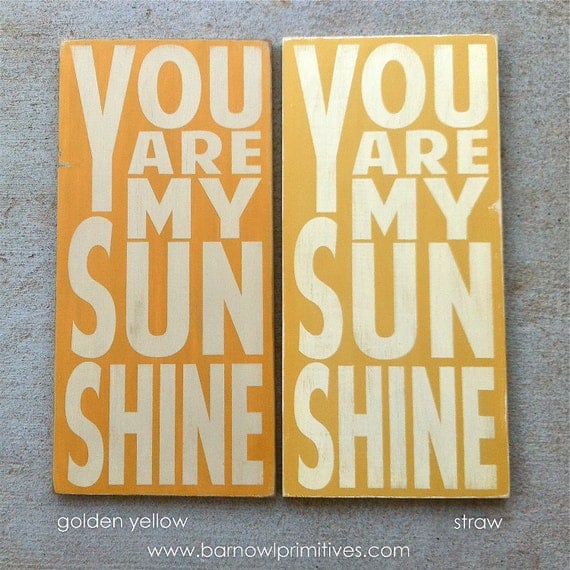 It came signed by Kristi herself…




Best part, it arrived with the saw tooth hanger already attached. All we needed was a nail and hammer and this baby was good to go. (Not like we needed the extra motivation, but it made it all the more sweeter for this impulsive soul!)







To check out Kristi's hand painted signs, click here. I promise you she's wonderful to work with!



PS - We are still experiencing an issue with our "Subscribe" button. We appreciate that so many of you wish to receive blog updates, and please know we are currently trying to figure out how to resolve this issue. In the meantime, thanks for reading. We are so happy to have you here!
Wishing you a wonderful rest of your week friends : )


Till next time, click and keep up with us on our favorite sites…
Vintage Social Networking Icons
Get new posts delivered to your inbox for free!